Tourist invitation-letter for visa to Russia (sticker visa and online e-visa).

Tourist invitation-letter in one of the main elements and docs for visa registration in Russia, when a foreign candidate intends to visit the country for tourism. According to the law, only travel agency can make a tourist invitation for a foreigner. The company must be an official tour operator for international incoming tourism. The tour firm should be registered in the Federal Register of the Tour Operators and have the testimony of tour Operation. Information about travel companies should be at the Consular Department of the MFA of Russian Federation and available for checking online.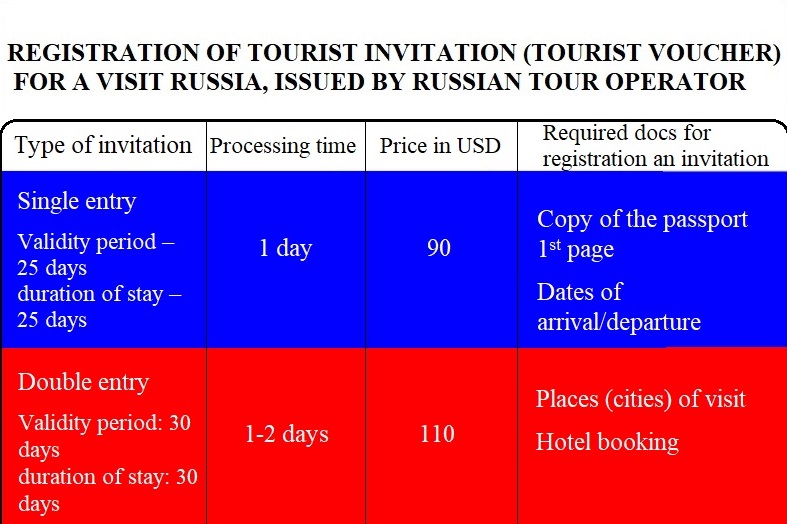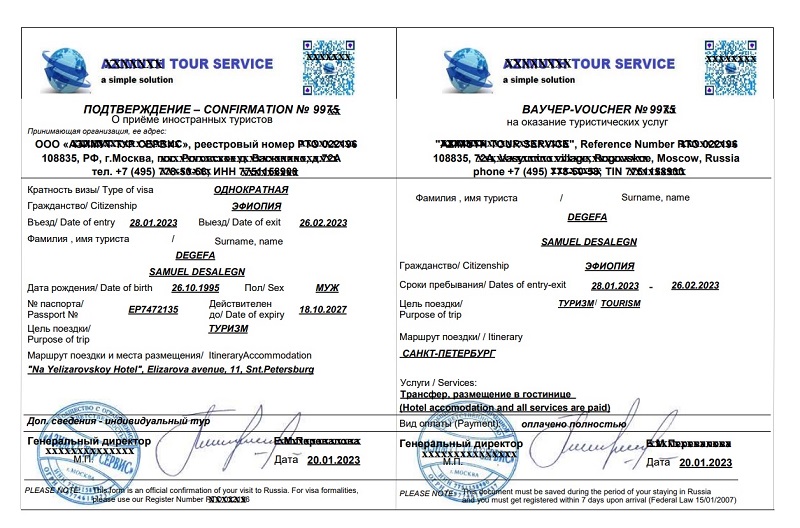 How to make an invtation for tourist purpose to Russia online for a foreigner (Pakistan, Sri-Lanka, Bangladesh, India, Nigeria and rest african and asian countries)?
How it works (STEP BY STEP):
1.Send to our e-mail: info@invitation4visa.com or drop via whatsapp
- Scan of passport copy (data page) of the foreigner;
- Dates of arrival to Russia and departure;
Places to visit in Russia (cities)

2. Hotel in Russia must be booked (paid) in first. You can book and pay hotel online in Moscow or anywhere in Russia on ostrovok.ru or any global booking web-portal. We can guide and help you to book the cheapest hotel in Moscow or any russian town by affordable price.
Apartments or private flats are unsuitable, becouse you are going to visit Rusisa like a tourist, then you should take a hotel for staying. Also hotel manager will provide you registration paper (its important nuance if you are gonna stay in Russia more than 7 working days).
Hotel booking payment confirmation. It will be your confirmation and evidence that you are geniune tourist which will have a fully paid hotel in Russia for all days of staying. Its very important for tourist from Asia and Africa. It helps to get visa easily and get through immigration border control without delays or problems.
Our kindly advice: please don't ignore this moment. Eliminate the possibility of deportation due to lack of fully paid hotel confirmation in Russia. Hotel must be at least 2 stars or more. Cheap hostel with huge numbers of random people in one room are not recommended!

3. Contact to our manager and agree a payment method. Make a payment by money transfer, Westernunion, Moneygram, Paysend, SWIFT/other way.
Please provide info details about your coming for order tourist invitation and send by messenger / e-mail
along with copy of passport 1st page and copies of your previous visas to Russia if they available.
4. Within 1-2 days we inform you when your tourist invitation will be registrated. We will send the scans of invitation by e-mail or messenger as confirmation of our work. You will see that job is done and invitation is ready. You will pay the rest balance and plus courier fee. The tourist invitation will be ready the same day or next day- depending on urgency and send to you by courier service in Russia or anywhere in the World by DHL (depends from courier tariff fees). Tracking number of DHL will be presented.

To obtain tourist visa, please provide your personal invitation-letter, hotel booking paper confirmation and rest additional docs with insurance to the russian Consulate in your country.
Relying on our work experince, recommend preparing the next docs for obtaining:
Tourist inviation to Russian Federation:
(tourist voucher and confirmation + information about tourist + guarantee letter)

1-2 photos (3.4 x 4.5 cm on white cover)

Completed application form online for a tourist visa to Russia (then printed).

Hotel booking paper confirmation.

Insurance policy certificate (with covering 30000 EUR).

COVID - 2019 health insurance Certificate

Visa fee reciept (check)

Booked airplane or railway tickets to Russia and back (if Consulate asks)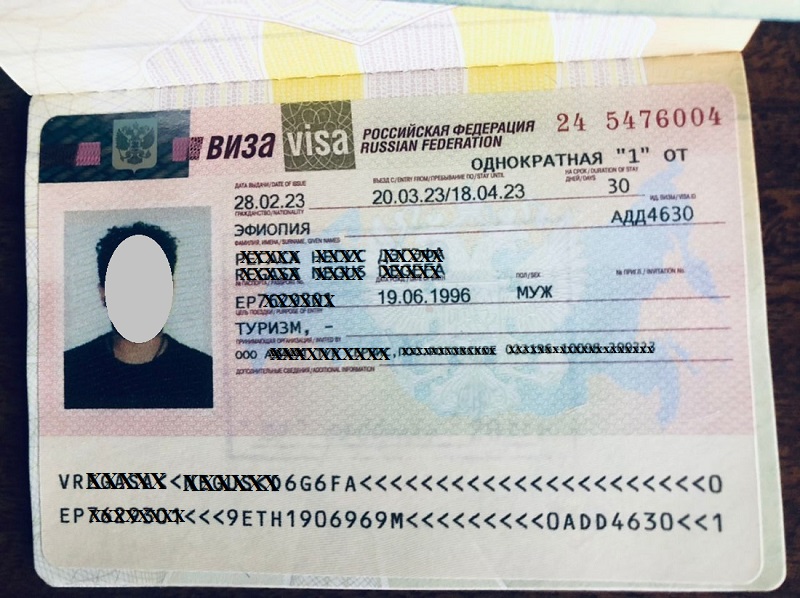 In many countries in the Russian Consulates, foreigners may get the tourist invitation in a scanned form and then sumbit it for obtaining visas.
Indian travellers and nationals of the 52 countries may get e-visa online to russian city Saint-Petersburg and Leningrad region only. You can't travel directly to Moscow by e-visa from India, for example, because due to immigartion rules you have to reach Saint-Petersburg region first.

In the migration dangerous countries, Russian Consulates require the original invitations (hard copies) as usually. You can visit official web-site where you can check lists of states whose citizens can recieve online e-visa: https://electronic-visa.kdmid.ru/spb_country_en.html

Electronic visa (e-visa) to Russian Federation has a very serious disadvantage and inconvenience: the problem that tourist can't leave the St.Petersburg region. It means that you can't visite Moscow or other beautiful places in Russia. You will be isolated in Saint Petersburg area and enterying-leaving the Russia are possible only through checkpoints at the national border in Saint Petersburg. Also flight to Saint-Petersburg much more costly then directly to Moscow air hub. If you are indian citizen think twice choosing e-visa to Saint-Petersburg. Maybe better to get full value tourist visa without limit and restrictions.
Applying processing time at russian Consulate up to 20 days or you have to pay double visa fee for urgency upon 3-4 days.

Hope its clear now.

Glad to help You!

Alternative option for staying more then 30 days by tourist visa will be business invitation for 3 months or 1 year.



© If a source is not indicated, a copyright belongs to the site invitation4visa.com, direct link to which is obligatory at copying or use of any its materials