Ukraine Business and Private Visa Solutions.

Get your business or private visa to Ukraine quickly and stress-free.
Professional and geniune service. Order now and save time.
Obtaining private or business invitation to Ukraine by ukrainian citizen or geniune working ukrainian private company-inviter:
for 1-3 months (up to 90 days) - 250$ usd.
For 1 year multi - 250$ usd.
Processing time 3-5 days. Courier charges from Ukraine to your country according actual DHL tariffs. Tracking number will be provided.
Get your private (guest) or business invitation now: https://wa.me/380684768399
The useful links for customer below:
* The courier tarifs (fees) by FEDex from Kiev (capital of Ukraine) to your country here: https://www.dhl.com/ua-en/home/get-a-quote.html
**The address and contacts of the Ukrainian Embassy or Consulate in your country:
https://mfa.gov.ua/en/foreign-diplomatic-institutions-ukraine
Private Visa to Ukraine: A private visa to Ukraine is intended for individuals who wish to visit their relatives or friends residing in Ukraine. This type of visa is suitable for personal visits, such as attending family events, celebrations, or spending time with friends or guest visits. It is not meant for engaging in business activities or employment in Ukraine.
Purpose: The purpose of a private visa is to facilitate personal visits to Ukraine to meet family members or friends.
Duration: The duration of stay allowed on a private visa can vary, typically ranging from 30 days up to 90 days within a 180-day period (anyway maximum time of stay is 90 days in each 180 days). The same migration term rules for business visa. Private and business visa is visa C type (90 days/180 days migration rules).

The specific duration depends on the decision of the Ukrainian consulate or embassy.
Docs: To apply for a private visa, you will need an invitation letter issued by your host in Ukraine, such as a family member or friend. We are kindly ready to provide this notary approved guest invitation for you.

Restrictions: While on a private visa, you are not permitted to engage in any business activities, work, or earn income in Ukraine. The visa is strictly for personal visits and does not grant any business-related privileges.

Well, now info about Business Visa to Ukraine: A business visa to Ukraine is right option for individuals who plan to engage in business-related activities in Ukraine or alternative tourist or private visa to Ukraine. This includes attending conferences, meetings, negotiations, exploring business opportunities, or establishing business contacts. Here are the main characteristics of a business visa:
Purpose: The purpose of a business visa is to facilitate legitimate business activities in Ukraine, such as attending conferences, meetings, or exploring business opportunities.
Duration: The duration of stay allowed on a business visa can vary, usually up to 90 days in 180 days you can spent in Ukraine by business visa. Maximum 1 year multi, but you should keep 90/180 days rule.

Permitted Activities: With a business visa, you are allowed to engage in a wide range of business-related activities, including meetings, negotiations, attending conferences or trade shows, exploring investment opportunities, and more. However, it does not grant permission for employment in Ukraine (visa D on empoyment ground).

It's important to note that the requirements, application processes, and specific conditions for private and business visas may vary depending on your country of residence and the Ukrainian consulate or embassy where you apply. It is advisable to consult the official website of the Ukrainian embassy or consulate in your country for accurate and up-to-date information before applying for a visa.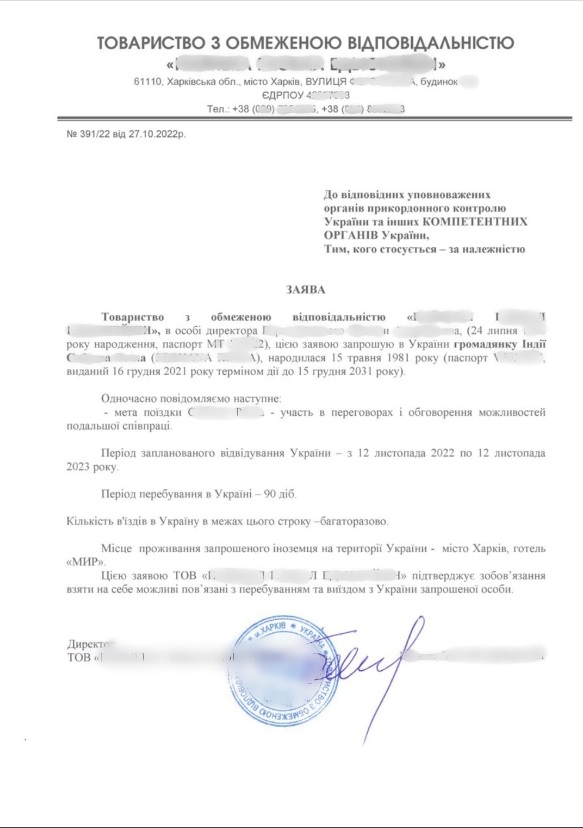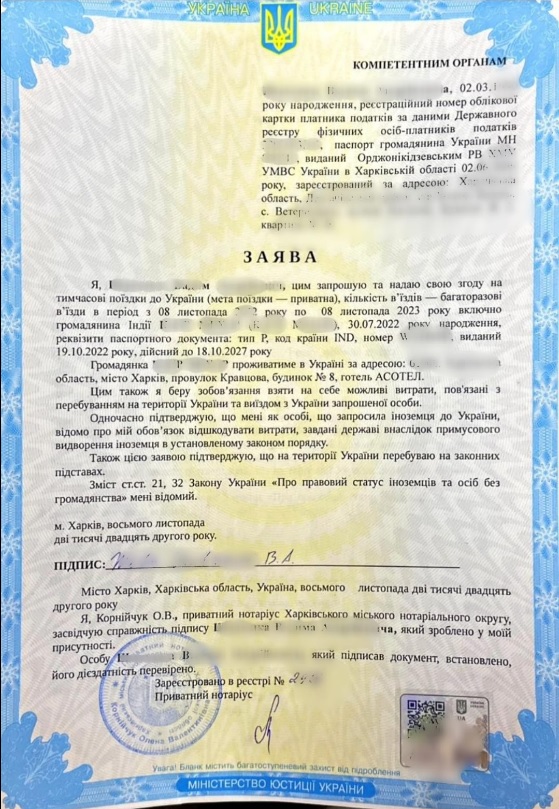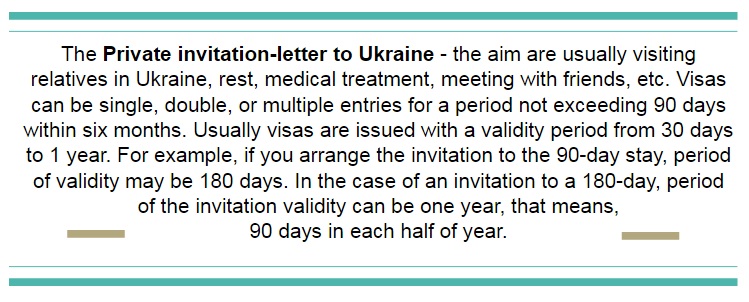 Our dear Guests&Customers, if You are african or citizen of some countries from Middle East as Iraq,Bangladesh,Pakistan, Afganistan and others our Advise to make registration of Private or Business-invitation for You!
If you are a student you should get a private visa by our private invitation, because you can't get a business visa yet, becouse you are a student. Actually, by law you can try to get a tourist or private visa to Ukraine. But If you never been in Ukraine before or never had USA,UK, Shengen zone countries(west europe countries) visas, then it will be really difficult to get a tourist visa to Ukraine. So, our advice is make a Private or Business invitation for You.
The Private or Business invitation-letter for migration-risky-countries citizens is highest chance and possibility to get a visa to Ukraine and not to be rejected at the Ukrainian Consulate by tourist invitation!
We are providing the invitation-letters (original and genuine), but only Embassy of Consulate will decide to give you visa or not! We will do everything professionally and perfect from our side, but your job is get a visa at Consulate. Please, understand it.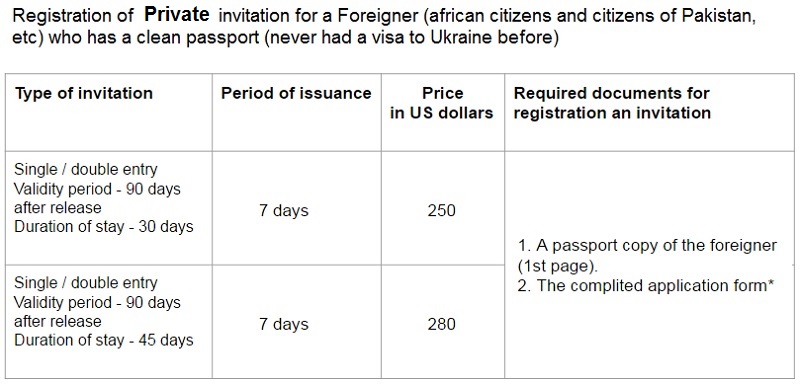 ORDER FORM FOR PRIVATE (GUEST) INVITATION TO UKRAINE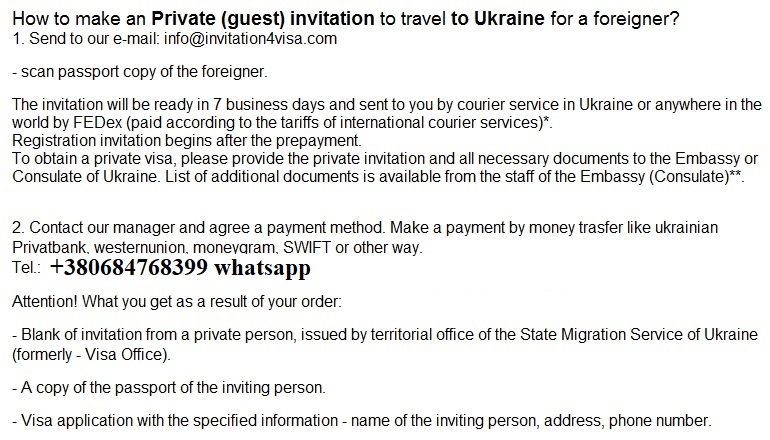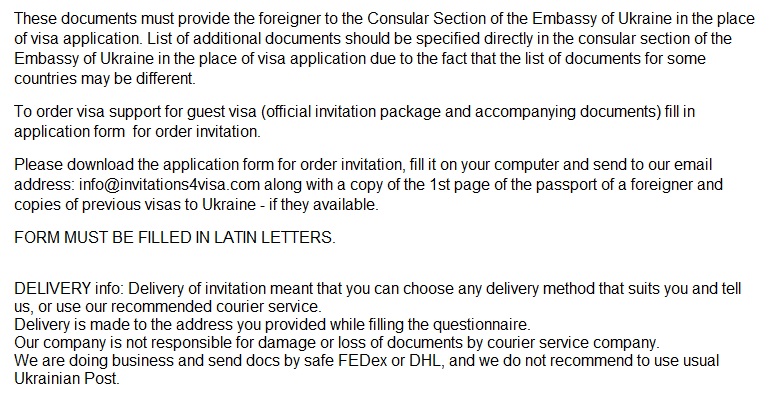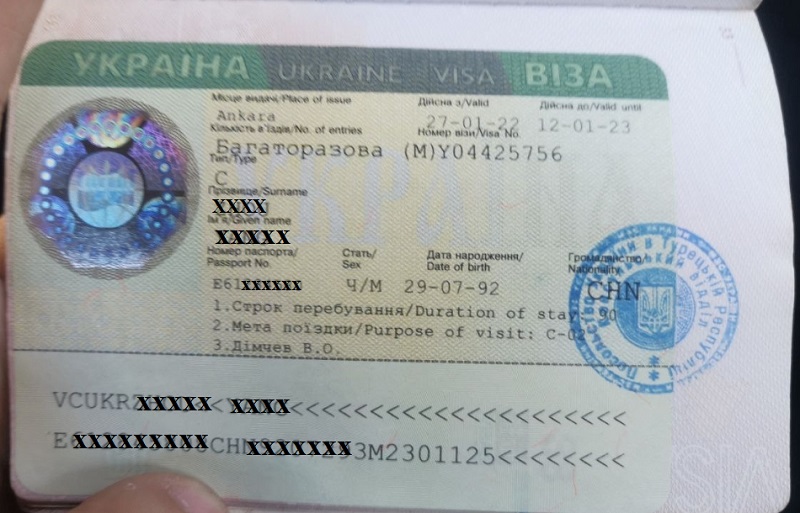 © If a source is not indicated, a copyright belongs to the site invitation4visa.com, direct link to which is obligatory at copying or use of any its materials